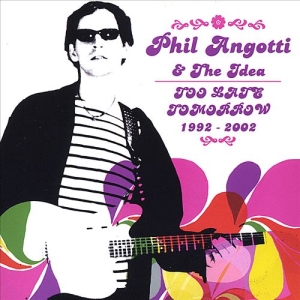 I'm sure that the ones familiar with the works of Phil Angotti, already have an "idea" what this is all about, and for the unfortunate ones that are not, this is as good a starting point as any, gathering some of Phil's most melodic "ideas" from the past ten years.
What else, than pop perfection, could you expect from a man, simultaneously fronting a tribute band called The Beatle Brothers?
In most cases, the choice of songs covers the albums' brightest moments, so you get the real taste of them, like the pure jangle pop of the debut, coming from the "shoes" of producer Jeff Murphy in Other Plans, or the bit updated/enrichened sound of the title tune from Afternoon Balloon (for which Noel Gallagher would've killed for) and from the same album, Good Day Eileen, which is like a Macca-demo (though with John and George on the backgrounds) and the jangly Myself In Your Place, the best Smiths' song that Morrissey and Marr had never written, with an imaginary special guest star, Roger McGuinn.
The Flower Bomb album provides the compilation's title track, shedding some "electric light" on Angotti's "orchestra" also with a distant Bacharach touch, the melodic Beatley "madness" of Lazy Apple, and then Try To Dream, continuing the mentioned Byrds jangle, coupled with a half-acoustic Hard Day's… arrangement.
Another good thing about this release, is that it provides the official release of some tracks, originally only available on the G.Elvis Is Still Alive CD-R.
Among these, is the pair of acoustic pop jewels, Down The Drain Dream and the Merseybeat-ish ballad It's An Autumn Thing, as well as the cover of The Zombies' Leave Me Be.
For those "in the know", who already have the albums, there are two unreleased tracks, the first album outtake Owl Stretching and the acoustic Better Day, which is sure to make you "go to pieces", making it enough a reason to own this CD!
[Released by Lemonclock 2003]