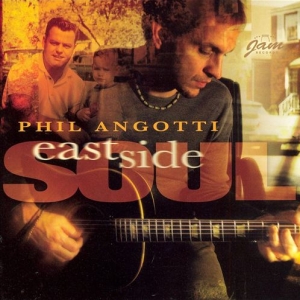 Even though there's more than two years since his last album, the imaginary Juliette Foster soundtrack, Phil Angotti always seems to have an "idea" or two, it's just up to him to decide if he's willing to share them with us mortals.
Luckily for us, the time has come once again for another bunch of catchy little ideas to be shared. After the Dylan-ized East Side Country Blues (a version of which is also included among the no less than four (!) hidden tracks here) serving as a kind of a precursor on the above mentioned previous album, the opening East Side Soul #27 might even pass for an unreleased Dylan-just-turned-electric outtake.
With the following Psychedelic Sunday not getting much farther away, getting a bit more sophisticated and countrified in a similarly folky way, after a rather dark Drake-ish cello opening, name checking some of the beloved album/song titles of '67/'68, and the same goes for the less electrifying, but just as suggestive 95th St. Bridge Song.
Not to think that he's getting all too rootsy, he also "squeezes" out a jangly pair of If I Catch You and This New One, the slightlydelic Zombie-heaven of Avenue L, complete with an Argent-like keyboard solo, the jazzy pair of the baroque-ing Marykate and the swingin' Tike, or the sound of '65-Lennon-just-about-to-turn-psychedelic heard in Mr. Baroo.
Officially, the album closes with the cover of The Bee Gees' Don't Want To Live Inside Myself, finding itself halfway between Helpless and Knocking On Heaven's Door, while it's the four "hidden tracks" actually closing the whole thing, with the first one being the already mentioned version of East Side Country Blues, followed by stripped-down acoustic versions of To Ramona and Junk, as well as a demo (supposedly) of the album track Everyone's The Same.
Whichever of the above "ideas" you choose to consider, you're about to end up on the right side, be it the East, North, or maybe even the West or the South one.
[Released by JAM 2006]