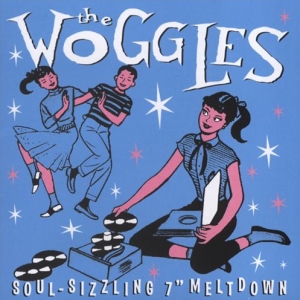 Already considered for an old-timer act on the transglobal '60s garage punk revival scene, this release represents The Woggles' in their 45 rpm speed, with their influences clearly displayed on their sleeves.
With the only two originals featured being the instrumentals Love Theme To Return To Blood and Throttlehead, The Woggles here deliver a set that might serve as an introduction, as good as any, to a mid'60s garage punk newcomer.
Starting with what might be considered for genre's classics, such as the freakbeatin' pair of You Got What I Want (The Sorrows) and Buzz The Jerk (The Pretty Things) and later She's Coming Home (The Blues Magoos) or Concentration Baby (The Dave Clark Five) they also tend to introduce some more exotic entries such as The Spiders' Mella Mella and The Jaguars' Dancing Lonely Nights, or even some souloful ones like Sam & Dave's Soul Sister, Brown Sugar.
With some of these 1994-2004 singles being long out of print, this is a great opportunity to catch up with The Woggles' roots, which is sure to take you towards their own soul-sizzling sounds as well!
[Released by Chicken Ranch 2006]