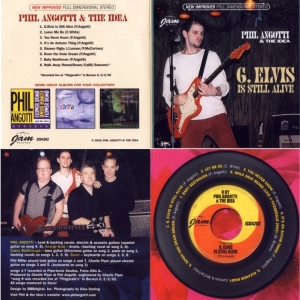 Thankfully, Phil Angotti continues to share his "idea" about how to keep alive not just Elvis, but also The Beatles, The Zombies and every other band/artist that you wish you'd had a chance to experience when they first appeared.
Here, we have a nice little album (mini album that is) that should cross the gap between the two long players, but I must tell you that it's sooooo good that it wouldn't be wrong calling it the regular fifth Idea album.
Anyway, the CD opens with the title tune that really has something to do with the King, but done in a very "lennonized" way, which would've easily find its place on John's "Rock'n'Roll" collection.
Songs like the upbeat You Never Know or the slower It's An Autumn Thing are what Phil's "idea" is really all about, and it's the less-than-3-minutes-pop- perfection, the first one having that nice clean sound like The Housemartins playing some Smiths' stuff, and the second being an acoustic, Merseybeatish ballad.
When it comes to the covers-section, well it's just something that you can't expect from anyone. When you choose to cover a classic song, you either except the fact that it can't be bettered, which is the case with The Zombies' Leave Me Be, a perfection hardly beatable, so all you try is to get at least close to the original… and, this one's as close as possible! …. or you can also make a classic of your own, which was Phil's "idea" about Eleanor Rigby, making it the best non-Beatle version of 'em all !!! The heavenly vocal harmonies are all that remains true to the original here, while the string quartet is replaced with an acoustic full-band treatment that really shines on it's own.
Even though it hasn't been that long since the Flower Bomb exploded, with a release like this, I wouldn't mind if they'd come even more frequently.
[Released by JAM 2002]