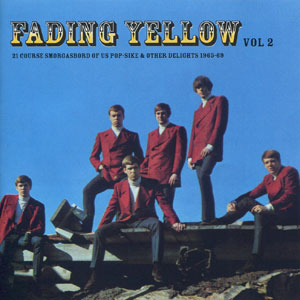 – A Smorgasbord Of US pop-sike & Other Delights 1965-69 –
Along with it's third volume, Fading Yellow treats us with an all-U.S."popsike delight". Thankfully, it's all divided in two volumes, so that you don't have to take it all at the same time, which would probably cause a harmony-overdose of some kind.
Like this, you can take it little by little, though an addiction is inevitable. Since the "popsike" label covers a pretty wide area, most of the songs included fit the concept, though there's still plenty of space for stylistic digressions.
The folk-rocking-sunshine-pop formula is featured in the opening track by Disraeli, as well as in the one by Calliope, who will, by the end of their song, make you feel like they're "leaving on a Jeff. 'Plane". George Edwards uses the same formula with the song from his pre-HP Lovecraft days, and while we're at the familiar names, you'll also find an obscure Boetcher production of The Oracle tune Don't Say So.
Paul Williams appears as a member of The Holy Mackerel, Idle-Racing through Scorpio Red, and he also co-wrote The Peppermint Trolley's Trust with Roger Nicholls, then there's the Standell Larry Tamblyn who's both written and produced The Backseat tune Where's Mary, and a surprise comes from the early '60s San Diego stars, The Cascades, who also followed the pop-goes-psych path in their later days.
"One of the quirkiest tunes" title goes to Chris and Craig's eastern influenced Isha, featuring future Maitreya Kali, Craig Smith (also known for his Monkee business), and funnily enough, some of my personal faves are the info-less entries by The Whispers, The Soundset and The Reign, all offering some high class, melodic blue eyed (p)soul and The July Four's Frightened Little Girl, sounding like it wouldn't have been a surprise hearing that it inspired Neil Young's "hurricane" melody.
The unavoidable Byrds' influence could be heard in the Brewer/Shipley penned tune by The Poor (featuring Randy Meisner), entering their notorious-jangle- zone, and also in The Higher Elevation's The Summer Skies, containing all "the reasons why" it should be ranked among the Byrds' own highlights.
Had this been released a year or two earlier, it wouldn't been inappropriate to call it "Waiting for the new Millennium", geddit?!
[Released by Flower Machine]