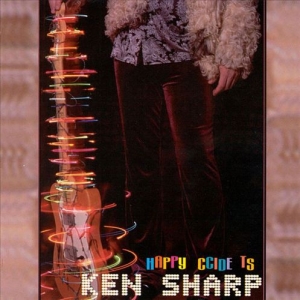 A supposition that rock-journalists/writers/critics are nothing but unsuccessful musicians is totally rejective in the case of Ken Sharp, a man with a couple of extremely competent works on the Beatles/Raspberries/ Cheap Trick biographies and power-pop in general.
Unlike many of the music-theorists, he managed to transform his detailed knowledge of pop/rock legacy into the written-form as well as the sung/played one!
The second form resulted in two exceptional albums, the first one in '95 as a Japan-only release and, after the Americans realised what a national treasure is in question, Happy Accidents is released by the great (power)pop oriented US Not Lame label.
The first impression left by this record is a bit contradictional because of the slightly rude, almost Gene Simmons-like (without the make-up) look combined with Peter Noone/Robin Gibb vocal interpretation of authentic Lennonisms.
The perfectionist approach in achieving a classic Abbey Road vintage- production is assisted with a real instrument-arsenal from the analog-heaven like Rickenbecker guitars, Hofner bass, Wurlitzer, Hammond, mini-Moog, mellotron, harmonium, maracas, tambourine …
Besides all the mentioned Lennon-fixations, Sharp doesn't get trapped in the stereotypism expertly moving through the most different phases like the prog-folk phase on Rubber Soul, the psychedelic-strawberry phase from '67 in Wrecking Ball, then goes Tea And Sympathy sounding like it's been recorded on the Apple Corps. building in '69 along with Billy Preston on the B3 and the funky-solo phase in Brand New Day…
All of this is filled with a couple of master pieces that remind us of some younger, equally "possessed" people like the pair of Lynne-like ballads (Floating On The Cornflake and You Say You'd Love Me), the Carmen personification with some great string arrangements (Unconditionally) and Room For Two is maybe a kind of an author-peak of the album gathering all of Sharp's influences.
Sometimes, Ken's voice reminds us irresistibly of some multimillion-selling teenage idols so, with top-class material like this, he has all the necessary elements for a megalomaniacal career.
It's up to the world to realize it!
[Released by Not Lame Records 2000]