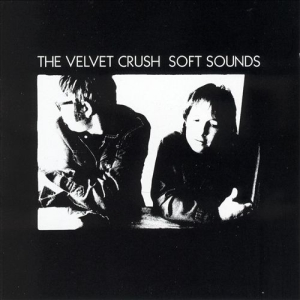 They call it "the album that almost wasn't". Two years in the making, Soft Sounds started out as Paul Chastain's solo project, but after Ric Menck's idea of the "soft rock" concept, it evolved into the next Velvet Crush chapter.
Now officially a duo, Paul and Ric were helped out by a coupla old friends, most notably Matthew Sweet, whose input in the global VC-performance is such that he could almost be considered a full time member, and there's also their ex-guitarist Jeffrey Underhill, here taking the drummer's role on one of the songs.
Though you'll find them steam between several musical styles, the band manages to stay inside of the initial "soft" concept. It opens with the piano based arrangement of Staying Found, kinda displaying the loose Let It Be-sessions ambience, followed with the folk-rocking 12-string chime of Don't Take Me Down, which is classic 'Crush, mellowed down just enough to fit it's surrounding.
The other "soft" aspects to be found are the folky acoustic tones of the Drake-ish In Your Time and the Paul Simon-umental Vanishing Point. As usual, there has to be a touch of country-side, which is evident in Forever, For Now, and there's a full-on Bacharachian exotica to be heard in She Goes On, and then Party Line (Samba), which recalls The Zombies as much as J.Mascis' gentler sides.
The three covers included are re-shaped, so that they also fit the concept and, at the same time, they continue the musical "soft" variety. There's a "Young Fanclub" take on Lindsay Buckingham's Save Me A Place, The Box Tops' c & w-pop Rollin' In My Sleep and Scott Walker's Duchess.
I guess this is what you'd call a "growin' up" record, though I wouldn't mind if they'd become "childish" again … as long as it's "velvet", I'm sure to get a "crush" on them.
[Released by Action Musik 2002]