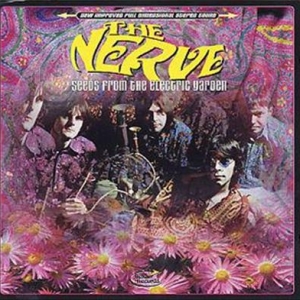 Even though all of the songs here are from the first half of the nineties, this could very well pass as the new Bronco Bullfrog album, which comes pretty natural since all of them (except for the Open My Eyes cover) were written by Andy Bronco, with a little help from his fellow Bullfrog, Michael Poulson.
They were described as "Nazz meets The Small Faces" or "Blue Cheer with Jan & Dean harmonies", and these are just two of the countless definitions that could be used to describe The Nerve's sound, cuz they actually captured the whole era, borrowing it's best parts to make a musical statement of their own.
There's also this nice sentence where Andy says that their "Fred Perry's had become paisley shirts and their hair was touching their shoulders", which can almost make you hear the combination of west-coast harmonies backed with modish energy. What they really do is dig out the power-pop roots through some audio MOVEments in Crystal Candy Girl (outside?!), then take a ride in the "yellow submarine" under the sea of tangerine, and still get wet under the (Gary Walker's) "rain", in the company of "magazine woman".
The Syd-era Floydian intro of White Flower, takes us back to their skooldaze influences, when their mynds were locked up by The Prisoners' Hammond screams, and then back to the safety of the "revolving" Britsyke sounds in the House Of David, followed by a baroque-popin' "look of sky" through the "zombie heaven", from the eyes of Mr. Smile.
There's also this nice little power-chord guitar riff in Dragonfly and Gyroscope, that Andy seems to have remembered for Broncos' Look At Me, which you won't be able to do, cuz I believe you'll be all-ears while listening to it, just like it's the case with these songs too.
One more thing I'd like to add, it really is no surprise to hear that Mr. Morten's first drumming lessons were taken from the "Moon" … and to complete one more of those descriptions, I guess his first singing lessons were picked up from Tony Rivers' Harmony Grass. Hey Andy, don't ruin this fantasy … "silence is golden" …
[Released by Detour 2001]