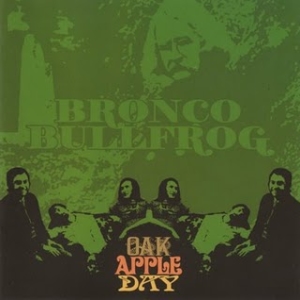 It's the same old thing with the Broncos … and it's that THEY'RE BETTER WITH EVERY NEW RECORD!
There's a line on the Harringay-demos collection about "selling their album to a couple of freaks in Spain", which they seem to get quite seriously now, heading for Madrid to record, taking their friend and Rev-Ola head honcho Joe Foster, to pull the knobs for them, which he did great!
Though they seemed perfect to me, some of the tracks from the mentioned demos-album were given the new treatment here, like Sunday Wheeling which takes the Hollies onto an Americana sike-seeing tour and the same-band-inspired melody is given a "dodgy" kind of a summery pop feel in I Don't Need The Sunshine.
Others with Harringay origins are the sunshiny mid-'60s folk-rock of Deep Six, the vintage power-popin' muster of Between Here And Beyond and Emporium Days.
You're My Head brings back the essence of the early '70s Who-ray rawk, complete with Entwistling monster bass lines and Moon-the-loon-rhythmic-swoon, Hey Mary is a Raspberry-flavoured Brian Wilson-reminiscing, while Wrong Things Right could've been by a band confronting The Wonders in That Thing You Do, but it seems to me that there would be a change in the main band role in that case.
Mock Orange Innocence is the Monkees at their heaviest, New Day Way offers some Mersey Move-ments, I Got The Rain even throws in some funky rhythms, with harmonies all over the place and Litmus Paper Suit, featuring Andy Morten's only vocal performance, delivers a Gene Clark-like country-ish melancholy.
A perfect companion to this one is What People Did Before TV, the Bronco's compilation, just released on Rev-Ola. So, grab 'em both, turn off your TV, turn on the stereo, sit under an oak tree and bite an apple!!!
[Released by Rock Indiana 2004]