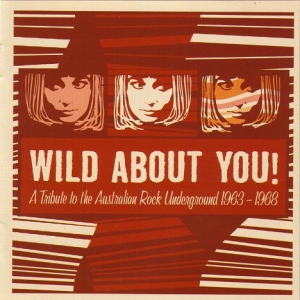 – A Tribute to the Australian Rock Underground 1963-1968 –
An integral part of this CD (it's the other way round actually) is the same titled book by Iain McIntyre and Ian D Marks (both taking part on the tribute-CD too!), featuring interviews with such Aussie sixties garage punk luminaries as The Missing Links, The Purple Hearts, The Toll-Puddle Martyrs/Peter & The Silhouettes …
Personally, I'd always take the originals over the cover versions, but if this happens to be your introduction into the world of the Oz-fuzz, it will lead the way perfectly. The ones that I'd use only as a sign-post, without much sticking around, are the ones that make the originals sound more like '77 than '66 punk, but then again, it doesn't lessen their importance within the concept.
Some of those that will instantly make you reach for the source (if you didn't before) are the BIG tumbling opening of The Drones doing The Throbs' Believe Me or the equally powerful and dark sound of The Naked Eye's rendition of The Creatures' Ugly Thing, as if put through the "music machine".
Another tune by The Throb, Black, finds Mickster and Ian Wettenhall of The Stoneage Hearts, taking a pure psych-r'n'beat path with The Lords of Gravity, Shutdown 66 deliver the usual dose of raw r'n'b, through The Creatures' All I Do Is Cry, while ninetynine come as the most adventurous of them all, taking The Atlantics' It's A Hard Life towards an unexpected loungey sound, in a kind of a lo-fi Cardigans way.
Of course, some of the tunes are such proven classics of Australian '60s garage punk that they simply stand out, no matter who does them, like The Tol-Puddle Martyrs' Time Will Come (Pink Stainless Tail), Peter & The Silhouettes' Claudette Jones (The Kamikaze Trio) or The Missing Links' title tune (Ian D Marks).
Make sure to get both of these (the CD AND the book) and you're sure to get "wild about them"!
[Released by 3CR/Weather Records 2004]