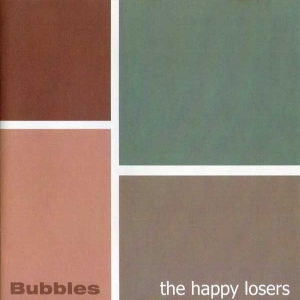 After being in-and-around the scene for some ten years, I'm sure these guys feel more happy than being losers.
As they mostly did with their previous three albums, if you make sure to catch some of these "bubbles", The Happy Losers will make YOU happy too, as heard from the very beginning of the album, through the happy-go-lucky, scandipop-like exploration of the sunshiny West Coast sounds in My Dreams Go Down In Bubbles.
When the time comes for the expected Beatles-references, they turn out kinda like a more sophisticated Oasis in Harlequin or Learning To Be The Second One, which is classic '67-Macca Beatlism.
The Way I Feel Tonight is a Lennon-through-Eric Carmen ballad that could do wonders on the mainstream charts if recorded by Robbie Williams for instance (even though I'm sure it wouldn't be THIS good) and my own faves come in the shape of a coupla moderndaze sounding folk-rock janglers like Sweet Little Muse, I'll Cry For Your Tears, both sharing a dose of Lemonheads 'Fanclub flavour, or the Byrdsy Prefab Mystic Hall.
The Grown-up also fits the genre perfectly and, though the lyric wouldn't quite fit him, the melody makes it easy to imagine Dylan's squawk all over it, while Trendy Girl is a lovely piece of popsike, making a contemporary reflection of the Fading Yellow series concept.
Feel free to burst your own "bubble" and taste the sweetness of the sound … you'll be "happy"!
[Released by Rock Indiana 2004]