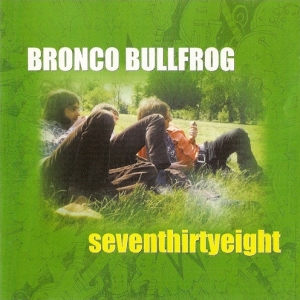 Since this is one of my favourite groups and also an owner of one of the POPISM's best albums of all times (the s/t debut from 1998), a certain dose of subjectivism must be tolerated in this review.
London based Bronco Bullfrog function on a pure camaraderie-basis of the three supertalented multiinstrumentalists. That is why the music of Andy Morten (drums, vocal), Mike Poulson (vocal, guitar) and Louis Wiggett (bass, vocal) is full of some special chemistry that makes it shine with an irresistible charm.
They all used to play in different "neo-sixites" beat/psych bands and than decided to fulfil their common non-genre ideas through a new band named after an obscure, low budget English movie from 1969. With a pretty wide influence-spectre starting from the mid-'60s through the Frisco-sound to the power-pop pioneers from the begining of the '70s, they made a sound-mutant called "technicolor power-pop"!
Maniacal Moon-rhythms and monster riffs as a platform for perfect triple-harmonies makes you come up with a mad but still realistic definition of "Merseybeat played by The '69-Who with a couple of west-coast freak-out bridges thrown in".
Answering a question about the most common Bronco Bullfrog audience profile, Andy says: "Middle aged, Nick Hornby types with huge record collections" which is a pretty good recomendation as long as I'm concerned!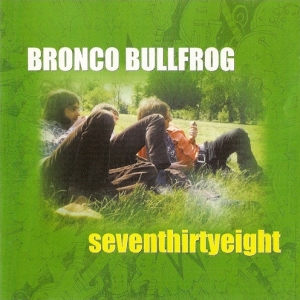 Actually, the songs on Seventhirtyeight are fragments of such a collection with the Who-ish My New Skin, the Beatles '69 title-song, the Raspberrie-like One Day With Melody Love, the 12-string Rickebacker-filled Get To Know You, the folkish C, S & N-ism Sweet Tooth or the imaginative three-part omnibus Jigsaw Mind …
If you happen recognize yourself in some of these phrases, Bronco Bullfrog is definitely THE band that will make your never-too-large record collection even richer!
[Released by Twist 2000]