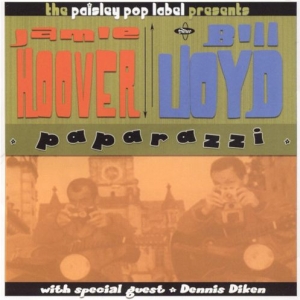 Considering all the (by)projects involving these two guys, they could easily make a double V.A. comp, chockfull of influences spanning from rootsy American tradition, through Brit-invasion and new-wave-ish power-pop, to the most contemporary guitar-driven soundscape.
Both being all-round studio wizards, it comes as natural that they've done it all by themselves, except for a little help from their Smithereen-friend, Dennis Diken, on the drum stool.
The overall impression is that this could be a commercial pop record, with the strength to invade the charts, but an option not to release it through some of the major labels, makes it sure actually, that it will end up on the shelves of only true pop fans first and then … who knows.
Some of the highlights include the Spector-cular production of Warner-era Costello-ish opener Show & Tell The World, the "spongetoned" mid-'60s Lennonism Better Left Alone (complete with the She Loves You guitar coda), not unlike The Rooks using the same trickery, the moody/jazzy "maccaronies" of I Can't Take It Back or the Jellyfishin' stickiness of Still Not Over You as well as some folk-rocking twang of Really Not Alone and It Could Have Been Me.
Paisley or not, this is pop music of the highest order, that could set some standards on the contemporary (power) pop scene.
[Released by Paisley Pop 2004]