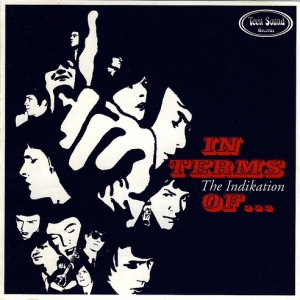 Ever since their first single on the French Larsen label, there was something in the air "indikating" that something's about to hit the moderndaze sixties scene.
Over the past year or so, they kept us curious, breaking the uncertainty with two more shiny little vinyl's (another one on Larsen and one on the German Screaming Apple label) and now here's the full-length experience, THE colourful beat stomp, in terms of The Indikation!.
The opening tune Search Your Heart is "indikative" enough of the mid-to-end '60s mod aesthetics they are trying to preserve, through the sound and the looks.
Of course, the Zombie-like "intelligent" r'n'beat is unavoidable and it materializes in the shape of Looking At You, adding some McGuinn-ish 12-string flourishes and By My Side, with an almost gospel a-cappella ending, while the catchy melody of Got To Tell Them turns them into Go(u)ld-men.
As always, The Indikation also provide a coupla cleverly chosen covers, making them their own (…like The Zombies' What More Can I Do, Chad & Jeremy's Should I, the Donovan-written You Just Gotta Know My Mind originally done by Karen Veros in '65 and Dana Gillespie in '68 or The Times' (She Can't Replace) The Love We Knew).
Though I'm not much of an instro guy, even London Electricity, which is actually a semi-instro, is a sure crowd mover containing lines such as "If you need some satisfaction, Indikation's got the action!".
Of course, for the sake of authencity, Liam Watson's Toe Rag studio is the place that makes all of this really happening!
[Released by Teen Sound 2004]