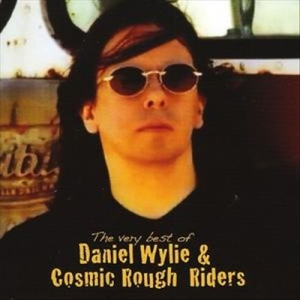 Riding the cosmic waves for the last ten years or so, was indeed a rough one for Daniel Wylie, having been forced to give up 50% of songwriting credits of what started out as a solo project before ending up as Cosmic Rough Riders, to be able to secure his artistic freedom, which he eventually ended up enjoying, under en even more melodic sunshine.
These days under the light of not only sunshine, but his own Neon Tetra as well, the time has finally come for his work to be put "together forever", covering everything from the 'Riders' debut long player from 1999, up until last year's solo Let's Go Surfing EP. The (expanded) B-bands list seems to be the one common denominator of most of the past reviews, all soaking in CSN (and occasionally Y) harmonies and distinctive Glaswegian melodic charm.
Equally jangly all over, the focus moves from the late'60s West Coast-flavoured vibes, as heard mostly in the "cosmic" part of the content (Glastonbury Revisited, Baby You're So Free, Revolution (In The Summertime), The Gun Isn't Loaded, Sometime, Melanie), to the more introspective solo stuff, still with more than a solid bond between the past and tracks like the soft-ish blue-eyed soul of Move In With Me, or the jazzy feel of Define Love, sounding like Bacharach-through-Neil-Young.
The ones revealing Wylie's Scottish origin the most, are the obvious "Fanclub membership cards" such as Unwind, That Was The Day, Consoling The Girl and Can You Feel Love (most usually as in the Fannies-covering-Neil-Young), as well as I Wouldn't Lie, which seems to owe a bit more to the BMX Bandits' kind of "ride".
Sure enough, if I was the one to come up with the final tracklist, there would be quite a few changes that I'd made myself, but then again, in case he'd had to start all over again, I'm sure Daniel would end up with a different one himself, so I suppose the only way to do it properly is to make a sequel volume in the not too distant future.
[Released by Neon Tetra 2008]