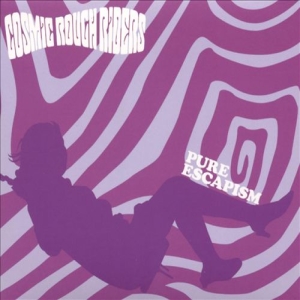 I really thought that the Cosmics are the ones with potential to fulfill the "next big thing" expectations, which might've been in question now that their main songwriter, Daniel Wylie, had left to pursue a solo career.
Fortunately, the only three songs on this "b-sides" compilation that don't include his co-writing credits, are enough for this idea not to be abandoned.
Universal Thing captures their usual concept of the "already countrified Byrds playing their '65-folk rock thing" and Move Along may be one of the best folky R.E.M. songs that they've never written in the early days.
More American folk-lore is explored in the appropriately titled tribute song Laura Nyro, adding their own "cosmic" thing with C,S,N&Y vocal styling and the already mentioned REMemberance is also brought back with Camera Shy.
It's not too often that the 'Riders enter the classic power-pop area, but when they do, like in I Got Over You, they do it so that you won't ever be able to "get over it".
Nothing To Lose is a Macca-like tune, River Runs Dry sounds like Simon & Garfunkel-doin'-Woody Guthrie, The Sound Of Windchimes is (obviously) a nice little Brian Wilson tribute and Annie is another great Byrdsy jangle/harmony package.
Generally, as their name implies, what this band was (is) about is redefining the "Cosmic American Music" concept, taking it to yet another, even higher level. The good thing about Wylie's departure, is that now we can expect two, equally good, aspects of the same.
[Released by Poptones 2002]