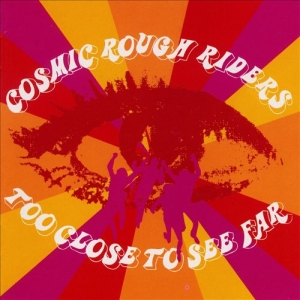 As I've already said before, the best thing about the parting of the Cosmic Rough Riders and Daniel Wylie is that now we can expect twice as much good music than before!
The Cosmics have done their part and they did it well! Most of the new album, you will "enjoy", just as much as you did with the "melodic sunshine".
On some of the previous singles' b-sides, the Wylie-less 'Riders gave us just a hint of what they're capable of, and now they have widened the scope adding a coupla more perfect summer soundtracks (Justify The Rain, Sunrise), continuing the "cosmic highlands music" concept (For A Smile) and also blending some Americana and power-pop, in a real "Sweet" way, just like they did before.
Of course, there's no withholding of other usual, but always more than welcome, sounds like the Byrdsy jangle'n'harmonize (Blind) or the Beatley popsike (She's Never Around).
As for the beautiful closer Smile, considering it's title, it's no wonder that the first thing that it brings to mind is Brian Wilson's Time To Get Alone, though it's really a bit more than just a Beach Boys-tribute, of whom you'll be thinking at least once more, while listening to the almost Gregorian chant-like harmonies of Tomorrow May Never Come and the hidden outro.
Though this album is a bit less West Coast-bound than the debut, it's a bit more …… well everything else actually.
[Released by Measured 2003]