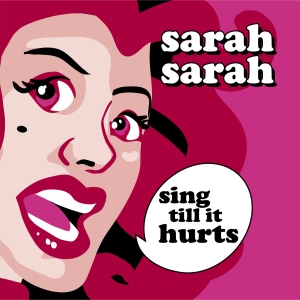 Formerly known as one of Melbourne's best-unsigned acts, Sarah Sarah steps out of the obscurity with a bunch of songs that will make you "sing till it hurts"! … and you'll keep asking for more anyway.
I really wish I could mark out my fave tunes here, but they're all so equally great and bursting with hit-potential that it "hurts". The first thing that comes to mind/ears while listening, is the boy/girl call'n'response vocal styling of Beautiful South, but more upbeat and also MUCH more fun!
For those in-the-know, when it comes to the moderndaze power-pop sounds, this band's place on your shelf is right next to the Sun Sawed in ½ albums. This is one of those rare occasions when the band manages to sound so bubble-gummy that you can almost feel how "sticky" the songs are, and at the same time, to maintain a melodic/composing/arranging sophistication of the highest order.
So, if you're looking for an energetic pill, chockfull of heavenly vocal harmonies, unforgettable instant melodies and hooks that won't let go once you're caught, this one's sure to warm up your winter days and nights … a perfect Christmas gift!
[Released by Pop Boomerang 2002]