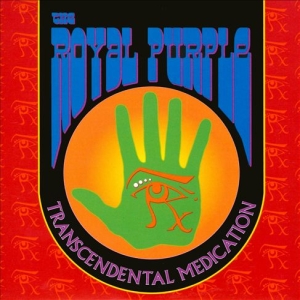 Getting under the shade of The Royal Purple Umbrella almost three years late myself, I'm happy to suggest that this might be your own shelter from the moderndaze as well. What started out as an unpretentious appreciation of obscure sixties records (sometimes so rare that it in order to make them available for a wider audience it was easier to re-record them than just simply recommend them).
The side project of one Creature of the Golden Dawn (Stu Rutherford) and an Insomniac (Mike Sinocchi), has become an ongoing annual affair, that might as well become a perfect moderndaze "pebble" or "rubble" or whatever, with The Royal Purple adding their own red flashes to a bunch of trans-global selection of forgotten nuggets, ranging from almost classics such as The Music Machine's Worry, Dana Gillespie's Donovan-written You Just Gotta Know My Mind, The Count Five's Declaration Of Independence, The Wailers' I Don't Want To Follow You, The Iveys' And Her Daddy's A Millionaire or The Flies' Turning Back The Page.
Through some pure garage-(freak)beat-psych exotica like The Sceptics' Turn It On, The Chylds' I Want More, The Silver Apples' Oscillations and even the Czechoslovakian Blue Effect's Sun Is So Bright, to a couple of those that might've been considered for an extremely cool mainstream, as The Faces' Glad And Sorry, Dillard & Clark's Lyin' Down The Middle, Pink Floyd's Cymbaline and even The Beatles' The Inner Light.
Just for the good measure of it, both of the long-playing albums also include a pair of originals each, showing how good a pupils Stu and Mike are, including a pair of mid'60s garage punkers, Take A Look At Her and Sound On Sound, with the latter also adding some chewy bubblegum flavour to it, as well as Stereo Phonograph, which is a power-popin' piece of a jangler, while Roger Keith's Birthday is such an indicative title (in case you don't realise it, I suppose you wouldn't even be reading this), and with the descending Lucifer-like riff, no further explanation is needed really.
Another couple of details, in perfect accordance with the above rubble/pebble reference, are the groovy, slightlydelic artworks, all on CD-sized slip-cases, reminding of tiny little vinyl record covers, and yet another thing, contributing to an almost missionary dimension of the matter, is the fact that these CDs (NOT CD-Rs !!!) are being given away for FREE! … Let yourself be treated with the Transcendental Medication coming in the shape of The Royal Purple pill.
[Released by Umbrella 2006, 2005 & 2004]