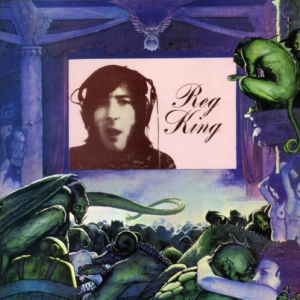 Having arrived just a bit late to shake some serious "action" on the POPISM list of "Best re-releases in 2006", I consider these (sky)high contenders anyway … and I mean like POW!!!
The first one is the re-issue of Reggie's 1971 solo album on United Artists, initially intended for the Marmalade label, run by Giorgio Gomelsky, who in spite of not really warming up to The Action's "lost" 1967/68 Brain/Rolled Gold sessions, did however realise the potential of their front man's "voice of the generation", which must've seemed pretty unwise to slip out of hand, before giving it at least another chance.
Once you hear the content of the final product, you can't really blame Giorgio for once again not hearing something he might've sold, making him drop the project after all, because even if you do consider the album's progressive surroundings of the time, it DOES kinda fall under the "collectors only" section, that wasn't really likely to cause crowdy dance floors, nor some serious (if any) chart position (which it didn't, of course).
So, what's that DOES make it being considered for yet another underrated classic? Simply put, it's what they call "a grower", requiring quite a couple of listens before it starts growing on you, and once it does, you're overgrown for good. Besides Reg's own vocal delivery, always being the trump card, the actual musical content is quite kaleidoscopic, sometimes even within a single song, with some of them "suffering" several different versions/line ups.
Chronologically put, the demos, until recently having been considered as "missing in action", make the appropriately titled vinyl release, with the backing being provided by none other than King's former bandmates, and therefore sounding as if they wouldn't really seem out of place among the Brain sessions, in a bit more laid back, mostly acoustic way.
Of special note, must be the three previously otherwise unavailable tracks, with Merry Go Round being a kind of a three-part omnibus, occasionally recalling the early Traffic, while Magenta and So Full Of Love both get a bit lysergically moodier, with the former in a Crosby-fied CSN way, and the latter in an Eastern-influenced jazzy way.
Of the remaining three tracks, You Go Have Yourself A Good Time is also present in it's earliest demo form, later to be electrified into an incredibly soulful, Faces-like album version, powered up with appropriate background vocals of, among others, none other that Doris Troy.
10.000 Miles is among the most Action-packed ones, also present as a CD bonus in another (even more) "mighty" take, before it was decided upon the final album version, this time with the backing being provided by Marmalade labelmates, and ex-Blossom Toes, now (three fourths of them) calling themselves B.B. Blunder, while Must Be Something Else Around later evolves into the superb Immediate-era Humble Pie-flavoured official album opener.
Of the album-only tracks, there's the 11+ minute long Savannah, which in spite of it being maybe the least interesting, is actually the most representative of the overall vibe, with it's improvisational-jam-turned-into-a-song feel, That Ain't Living, to these ears at least, might as well be King's own "royal" achievement, taking "action" somewhere halfway between the psychedelic grooves and the more upbeat mod stomp.
Down The Drain is an almost conventional, horn-laden blues number, by way of the likes of Electric Flag, and I suppose it's the pair of In My Dreams and Little Boy that should be the most interesting to The Action fans, being just a tad more proggy, though not too unlike the earlier Brain/Rolled Gold versions.
For the album closer, Reg returns to some more Faces-like balladery, in an almost gospel way, in Gone Away, and yet another, elsewhere unavailable, track to be found among the 7 CD bonuses, is Nobody Knows Where We Are, a "humble" piece of rawker, and the supposed b-side of an unreleased single.
Too complicated to be specified in such a "condensed" 🙂 review, it's at least worth the mention that joining the occasional "action", is what can safely be described as an all-star line up, featuring, besides the already mentioned Mighty Baby and B.B. Blunder, the names of Brian Auger (in spite of him being pretty sure of the opposite), Mick Taylor, Barry Jenkins (of The Animals), as well as Steve Winwood (at the time being referred to as The Mystery Man) etc.
[Released by Circle 2006]