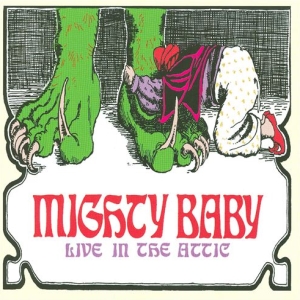 Dating from a period halfway between sessions for the two albums released in '69 and '71 respectively, the material included herewith finds Mighty Baby at their most experimental. The opening live tracks (recorded at a gig supporting Love in 1970) are split between a 15 minute jazz-flavoured Eastern-tinged psych jam (Now You See It), and Grateful Dead-like West-Coast grooves (Stone Unhenged, Sweet Mandarin), while the rest of the album comprises Olympic Studio outtakes.
The title of Now You Don't (4 parts flowing into each other seamlessly in almost 40 minutes overall!?) suggests that this might as well be an extension of the above mentioned Now You See It, with it's improvisational Coltrane-influenced content only adding up to the idea, and Winter Passes starts out as an almost conventional eerie pop-psych of the day, before it delves into realms of jazz just as well.
With Coltrane's India already in their live set during the late Action days, this wasn't too much of a surprise, but it's the forthcoming rootsy, Band-influenced A Jug Of Love, that didn't really seem as what you'd expect to appear on the horizon.