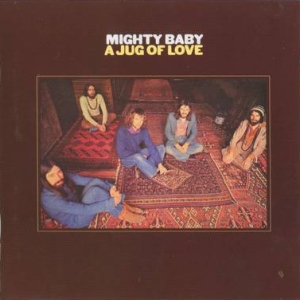 After shakin' some stompin' blue-eyed mod "action" throughout the mid sixties, and then evolving towards the more psychedelicate and "brainy", at the time unreleased, Rolled Gold material, 1969 sees the birth of the Mighty Baby.
Now with Ian Whiteman, along with Alan"Bam"King, taking over the lead vocal duties after Reggie King's departure, and The Action morphing into a full-blown bunch of flower children, offering with their first album what's being considered these days for Britain's definitive answer to the American West Coast sound.
If you still haven't heard the above mentioned debut, the previously unreleased pair of outtakes from the same sessions included herewith (Messages, Ancient Traveller), will provide you with at least a snippet of the vibe, while the rest of the content of this re-issue, made of their second album (1971) and it's preceding single, finds them evolving even further, towards a bit more laid back feel.
With an exception of the more than usually upbeat Keep On Jugging, being reminiscent of the kind of Allman Brothers-like funked up country, the remainder of the tracks mostly fit within either the kind of a slightly jazzy, Macca-through-Todd Rundgren-like sophisticated grooves (title song, The Happiest Man In The Carnival), the almost classic country ones (Tasting The Life, Slipstreams) or somewhere halfway between the two (Virgin Spring), with the latter three being pretty close to The Band's Americana sound.
Co-produced by Mike Vernon and originally released on his Blue Horizon label, the album doesn't seem like something he might had been hoping for, and even though it might remain in the shadow of it's predecessor forever, A Jug Of Love is more than worth checking out, and is a most welcome and long overdue re-issue.
[Released by Sunbeam 2006]