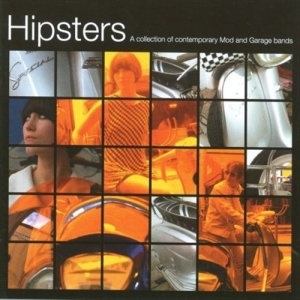 – Collection Of Contemporary Mod And Garage Bands –
Mod, garage, freakbeat, r'n'b, soul, boogaloo or whatever other kind of a groove it may be, all of these hipsters are wearing their mid-to-end '60s influences proudly on their sleeves, making this collection seem like a kind of an overview of the kaleidoscopic sound variety that graced the swinging sixties.
Considering the fact that they named themselves after the street of the infamous Stax Studios, it doesn't come as too much of a surprise that McLEMORE AVENUE's opening track About Face is a groovy MGs-styled instrumental, which isn't too far from where THE WAISTCOAST's Theme From W.A.I.S.T.C.O.A.T. falls as well, and to round things up, it all ends with yet another instro, which is cool jazzy swing called Coming Up Roses by THE NEW MASTERSOUNDS.
On a raunchier side of things, THE BLACK HOLLIES' Ready Set is a MotorCity greased early '60s r'n'b, THEE SHAMS' Not Gonna Make It is a "Pretty" freaky kind of an "Animalism", THE LOONS' Some Kind Of Asylum doesn't get less freakier neither, while THE GONKS' Just A Man captures the same mid'60s r'n'b vibe in a more conventional, and at the same time more authentic way as well.
Of what you might consider for a bit more radio friendly sound, there's THE LEN PRICE 3's The Last Hotel, finding them somewhere between the jangly Byrds-like jangle and Who-like pop art-ish references, suggesting that "the kids are alright", ex-Prisoner Alan Crockford, now fronting THE STABILISERS, sticks to the usual Medway brand of hard rocking garage beat in 100 Year Old Riff, THE MOVING SOUNDS' The Blindfold is a pumping Hammond-laden mod stomper.
And the one time mod revivalists THE RISK combine the latter daze Who riffs with power-popin' melodies in Something On My Mind, while the only female representatives are THE DANSETTES with their Stax-like piece of a funky soul called Oh My.
With some of them already being considered for established scenesters, quite a couple of these young hipsters from around Europe and the USA, are something to watch out for as well.
[Released by Acid Jazz 2006]