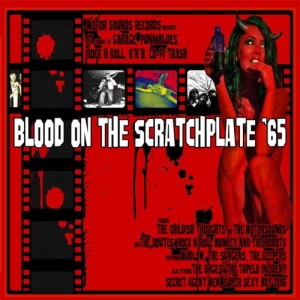 – 17 Chunks Of Garage, Punk Blues, Rock'n'Roll, R'n'B, Lo-Fi Trash –
With this kind of a subtitle, and liners describing it as "hard hitting, alcohol fused, in the red, testosterone driven primal and primitive Rock'n'Roll", not much of a doubt is being left, except maybe for the slightly misleading "65" part, which doesn't really happen to be untrue, but it's just that you might want to know that this comes from a moderndaze perspective of the year's deepest underground, for which there was no way to appear even near the surface.
Compiled by a "strange and beautiful lunatic" from Northern Ireland that is Andy McGibbon, it comes as natural that most of the Motorsounds "fuel" comes from the neighborhood, starting from his own band THE MOTORSOUNDS with Hardtale Lurgan Blues, being exactly what the band name suggests (probably placed on #5 not by pure coincidence), and the other one of their tracks Golden Hole is just a tad more laid back "spoonful" of "fever"-ish white-boy blues.
The self proclaimed "Kings Of Frug Rock" THE CHILDISH TOUGHTS, provide us with Anybody Else, recalling a kind of a dirtier sounding 'Stones, or The New York Dolls for that matter, along with Long Gone, a countrified piece of garage punk, THE URGES' The Urges Theme sounds like a long lost early'60s surf instro, resurrected for an additional spooky vocal session.
While the frakbeat-ish r'n'b pair of Money and You & I Don't Belong, as delivered by Belfast's youngest generation of "gypsies", are both proofs good enough to explain Kim Fowley volunteering his services as a producer "if they all can get together and keep it stupid & noisy".
Of other "chunks" just as worthy of mention, there's MUDLOW sounding "safe as milk" within the primal bluesy sound of Drunken Turkey and Zac, with the latter also throwing in some of that early "sonic" sax'n'punk groove, and the Japanese power trio THE ROUTES takes it all back to the initial British r'n'b boom, throwing equal parts of "pretty" and "ugly" things all over The Shadow and Left My Mind.
Expect a full blown rave-up on their forthcoming long player soon out also on Motorsounds Records, and until then, you're expected to survive on the "blood from the scratchplate"!
[Released by Motorsounds Records 2006]