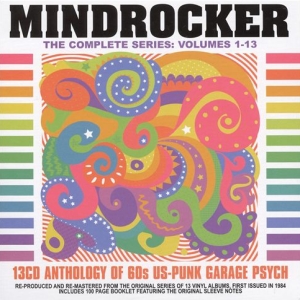 – Anthology Of 60s US-Punk Garage Psych –
Probably the biggest of all recent re-issue projects by Past & Present, the Mindrocker box is by all means a heavy one, gathering all 13 volumes originally released in Germany in the '80s. Instead of the obligatory "obscurity" tag, most commonly used on '80s comps, each volume features at least an entry or two that has grown to be considered for a garage-punk classic in the meantime, sometimes even being referred to as "oldies", in the most commercial meaning of the word.
There's no way an average '60s nerd can get too excited these days after seeing names of THE SEEDS, THE SHADOWS OF KNIGHT, THE MUSIC MACHINE, ? MARK & THE MYSTERIANS, THE CHARLATANS, THE LEAVES, WE THE PEOPLE or THE FEVER TREE, but I'm sure every single one of them will still find enough to drool upon among the 196 tracks included.
The ones making my own moptopped covered little brain melt are some of the entries that I haven't managed to get hold of in a regular physical form so far (mp3s, CD-Rs are no good). Most of all, I'm thrilled to finally have both FAMILY TREE and EUPHORIA non-LP single sides, and I'm almost just as happy to have the pre-Fun And Games SIXPENTZ single Imitation Situation, GAS COMPANY's Jack Nitzsche produced folk rocking protest Blow Your Mind, or the pair of JOHN FRED & HIS PLAYBOYS' gritty mid'60s r'n'b Something's Going On and Boogie Children, without having to dig deeper than necessary.
[Released by Past & Present 2009]