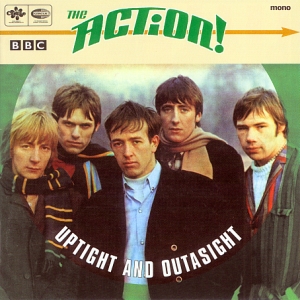 If there is something like "the most surprising re-issue of the year", then it definitely must be this one!
Even though there is a distorted sound or two on it, you can't really argue with a new Action (double!!!) album, as long as there is one at all, can you? The material on the first CD comprises the up-until-now-thought-to-be-long-lost BBC appearances.
It ranges from, a bit scruffy quality but still more than worth hearing, live-in-front-of-the-audience blueyed soul searchin' through some of their significant dance floor mod stompers (I'll Keep Holding On, Land Of 1000 Dances/Uptigh-medley, Going Out A Go Go, Never Ever), through the BBC studio takes on the otherwise unreleased covers of The Olympics' Mine Exclusively and Kim Weston's Take Me In Your Arms (Rock Me A Little While).
Both could stand alongside any of the officially released singles, to the latter days west coast influenced post-mod popsike of their own Love Is All, as well as more covers of such eclectic choice as The Byrds' I See You (w/ The Association's Along Comes Mary riff thrown in) or even one of the future Might Baby live staples, Coltrane's India, with Ian Whiteman widening the musical scope on flute.
The bonus CD transfers the In The Lap Of The Mods live'98 video tape (with two bonuses) onto the digital audio form, once again proving that "baby, they've got it" !!!
[Released by Circle 2004]