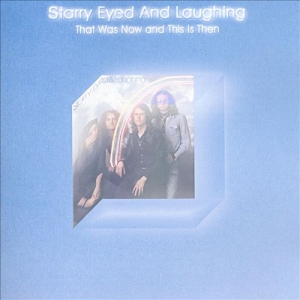 It's funny that sometimes some of the best music of an era takes the artist's own record label to be re-released for the first time after thirty years.
Taking a line from Chimes Of Freedom, Starry Eyed & Laughing chose the name that matches perfectly the sounds they were making, while their story was rather sad, being another well known loved-by-the-critics-ignored-by-the-record-buyers scenario.
Their only two albums from 1974/1975, were enough for them to be dismissed as mere Byrds copyists, and in fact, they had so much more to offer. While they never tried to hide their fascination with McGuinn's 12-string jangle and the West Coast harmonies, it was never more than a couple (on each album) of obvious conscious tributes… and a T-shirt saying: "I'm a Zig Zag Byrds freak".
But even when they did it, they did it good, and it must've been quite refreshing to have them amongst all the glam and glitter. Songs like Going Down, Closer To You Now and Strangers All Over Again, or the Crosby-like outlandish eclectism of Lady Came From The South, would've surely been among my fave Byrds tracks, had they been recorded by them, and they even came up with their own (imaginary) Dylan covers (Money Is No Friend Of Mine, One Foot In The Boat, Since I Lost You).
When the inspiration was coming from a bit more recent past, it resulted in CS & N-like workouts, with heavenly harmonies and an occasional McGuinn pop up (In The Madness, Everybody, Thought Talk) and even when came the closest to what was around at the moment, they did it most appropriately with Moby Grape-like (Oh What?, Keep It To Yourself) or 10CC-een (Living In London, Don't Give Me A Hard Time) harmony-fueled rawk-outs.
Other "flight" digressions include the equally jangly See Your Face, sounding as if Moby Grape was swimming the Mersey river, instead of the Pacific ocean, Nobody Home adds some of the Mancunian, Hermit-like feel, Down The Street has a slightly softer, Boetcher-like sunshine-harmony mood, and Believe shares a bit of the Big Star feel from You Get What You Deserve.
The last, unsuccessful attempt at commercializing the sound, was done with the name shortened to Starry Eyed and two more singles, with Flo & Eddie trying to put them under their sweet-sounding "turtle-cover".
Generally, Starry Eyed & Laughing remains the perfect British answer to the sounds of Raspberries, Big Star or Blue Ash… musically and commercially.
[Released by Aurora 2004]