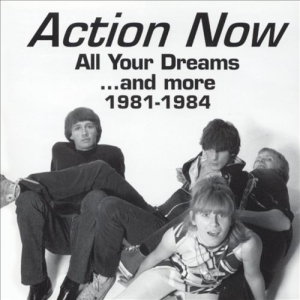 Action Now was actually Paula Pierce's "action then", while she was playing an important role in modeling the meaning of the paisley pop genre, before forming the girly garage combo The Pandoras in the second half of the '80s.
Being the main songwriter, her mid'60s influences are what dominates throughout the CD, while the guys' own efforts recorded when she was already out of the band, with no offense meant, show that without her, all they would've been was just an average punky little band.
Originally released only in France in 1984 [Lolita 5022], the All Your Dreams album is mostly divided between the garagey folk rock, mostly sounding not too unlike The Barracudas (I Want You, So Much On My Mind, Every Word I Say, the future Pandoras' tune Stop Pretending), as well as some super melodic mid'60s power-poppin' beat reminiscing (This One Chance, Then And Now, See If You Can), and some more of the same in the non-album studio recording of Try and there's also some surfy twang to be heard in When Wednesday Comes.
As a bonus, you get no less than the whole '81 live live set, recorded under the band's previous guise as The Direct Hits, which, of course, doesn't really match the impact left by the official release, but surely offers a couple of tunes that I wish I could hear after the studio treatment, such as I Can't Get Over You or Trust In Each Other.
[Released by Avebury 2003]