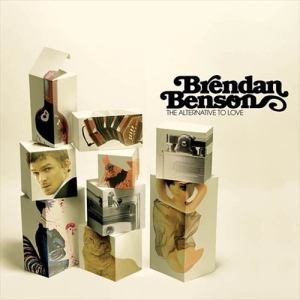 Some might think that an album of the year (2002 according to the Audities mag), must be a hard one to equal, but considering Brendan Benson's hyper-activity/productivity, as shown through side projects such as the Jack White (Stripe) collaboration, his fulltime membership in The Mood Elevator, or the frequent presence of Jason Falkner, who doesn't really gets involved with just anyone, somehow I didn't have a problem believing that it will come naturally… and it does of course.
Alternative To Love might be as good a prototype as any, of what a contemporary guitar oriented record should sound like. The opening goes to the classic skinny-tied type of power-pop of Spit It Out and it ends with the similar feel of the Lennonized Between Us.
Between these, there's some more sixties-influence updating within the mentioned power-pop genre, done not too unlike the Fountains of Wayne (I Feel Like Myself Again, Get It Together), then there's Pledge And Allegiance leaning onto the Spectorish "wall of sound", or a bit dark but extremely melodic Britsike vibe of Gold Into Straw.
On the gentler side of things, the title tune is a Dylanized folky piece, turning into an almost discoid Beck-up, Biggest Fan sounds kinda like J.Mascis covering some of Weller's moodier latter days-Jam stuff, appropriately followed by the folky chamber popsike of Flesh And Bone, while What I'm Looking For is spread between the laid back '67/'68 Kinky stuff and the 'Spoonful-ish good times.
Whenever you're in doubt what to put on, this one might be an "alternative to anything"!
[Released by V2 2005]