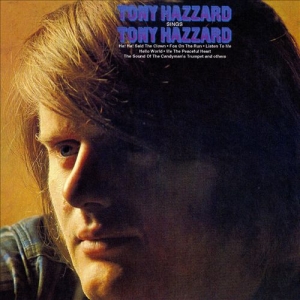 With a "spookily similar career trajectory during the second half of the sixties", to the one of Graham Gouldman, as put by Andy Morten in the accompanying liners, Tony Hazzard also happens to be among the very few, if not the only one, sharing the same ability of churning out hook-laden pop confectionery, with it's signature style usually being a sure pass to the charts of the swinging decade.
Besides the original album sleeve notes stating November 1968-February 1969 as the period within which the recordings took place, except for a brand new re-recording of You Won't Be Leaving (Tony's first hit, released by Herman's Hermits), all of the album tracks are actually a bit beefed up original demos from as far back as early 1967, with the arrangements being worked out to such details, that anyone they'd been given to, couldn't do much better than to almost duplicate them.
Setting the standard right from the very opening number, and sticking to it throughout the whole album, there's no particular use trying to describe, analyse or single out any of the tunes, except maybe mentioning the main of the "spooky" little comparisons to the above mentioned mancunian soulmate, with both of them releasing their own albums at an approximately same time, without managing to score a single hit, with almost everyone else cruisin' up and down the charts, with almost anything they'd chosen, or had been given, from the Hazzard/Gouldman songbooks.
Thanks to this, even an average music fan should be familiar with most of the content, through versions of The Hollies (Listen To Me), Lulu (Me The Peaceful Heart), Cliff Richard (The Sound Of The Candyman's Trumpet), The Casuals (Hello It's Me), Manfred Mann (Fox On The Run, Ha Ha, Said The Clown), The Tremeloes (Hello World).
While those a bit deeper in the know, will surely be just as aware of the recordings by Family Dogg (Brown Eyed Girl), The Yardbirds (Goodnight Sweet Josephine), The (Swinging) Blue Jeans (Hey Mrs.Housewife) and Cherry Smash (Fade Away Maureen), with the latter being the album's only venture into the slightlydelic haze.
First time ever on CD, the wait for this re-issue has been even more worthwhile, considering it's expansion with three non-album single b-sides, including Everything's Gone Wrong, being the only one from around the same period not recorded by none other except Tony himself, as well as both sides of his pre-fame 1966 single, being just a hint at the pop wizardry to come.
[Released by Rev-Ola 2007]