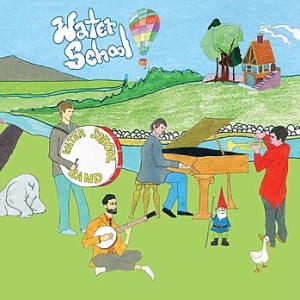 When it comes to the Americans and the British throwing each other's influences back and forth, the debut album of this Baltimore bunch seems like a great example of the so called ping-pong effect, being chock full of that genuine "Glaswegians-scratching-around-the-American-legacy" charm.
Appropriately enough, the album is being released on the Scottish Neon Tetra label, and while they'll keep reminding you of their origin through an authentically country-ish native "Gram-mar" (Firefly, (Darling) You Won't Have To or No Cause For Celebration) , as soon as you hear Southern Belle, The Home We Never Had or All God's Children you'll be sure to secure your own "fanclub" card, as soon as the 'School's out, being a teenager or not.
With most of the tracks sharing the same distinctive touch of innocence, along with the hardly resistible catchiness, this is most likely to appeal to fan(club)s of Francis McDonald (either as Nice Man, Cheeky Monkey, or BMX Bandit), best evidenced through the opening pair of Talkin' 'bout Us and Forgive Me Robert, as well as later with Sometimes What You Don't Know and Rosita.
Andy sounds as a kind of a tribute to the similarly stripped-down, almost lo-fi approach of Velvet Underground, while the only one with what might've been considered for a bit moodier, offbeat touch to it, being one of the album highlights as well, is Blooms In Disguise.
Giving the best possible definition of the sound you're about to "learn" in Water School, here's a couple of opening lines from "The home we never had" : "We went roller coasting down through New Orleans, and over the Highlands, back through the swamp lands, and home to Long Island" kind of describing the band's own musical roller coaster ride.
[Released by Neon Tetra 2006]