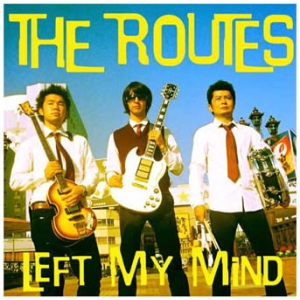 "Accused" for being one of the highlights of Motor Sounds' Blood On The Scratchplate '65 comp on these very pages, just as promised back then, The Routes are back with a full blown rave up, with their minds being left far behind, somewhere between January of 1964 and December of 1965, when the British r'n'b boom was shaking the grounds all over the world.
Considering the sound of The Routes themselves, it seems that the "seizmic activity" in Japan is still going pretty strong after all these years. My instant impression, after taking my first trip down the route, is that the description which takes us closest to the core would be "The Clapton/Beck era Yardbirds being produced, or should I say freaked-out, by Kim Fowley", with vocalist/guitarist Chris Jack, mostly hiding his non-Japanese origin behind the shades, sharing the same kind of an appropriate growl as the ex-Stroller and recent Maharaja, Mathias Lilja.
Never really getting too far from it, an obvious exploitation of the above formula is being heard throughout the whole album, with the best examples being the opening pair of the title song and Tell Me It Ain't So, while another one of the highlights might be Slight Delight, The Birds-like freakbeat "delight", taking a "slight" detour towards an even hipper mod-ernistic r'n'b approach.
Now everyone, leave your mind and join the route to the motor sound!
[Released by Motor Sounds 2007]