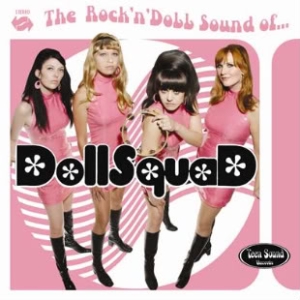 "An elite army of female assassins…in a race against time and death to save the world from a hideously diabolical mass destruction at the hands of a madman no one had ever seen!" is how IMDb describes Ted V. Mikel's 1974 movie, sharing it's name with this bunch of Oz Dolls, whose task seems just a tad easier, but none the less important.
Also acting as world saviours, trying to grab it out of the hands of musical lethargy, they're using all the strongest weapons, such as full on sixties outfits, as well as the decade's musical legacy, along with some punkish anger, pinned onto the rootsy power-pop sound.
As for the Rock'n'Doll sound itself, comparing a German boy with John Felice, paying a tribute to the Motorcity, or wanting Joey Ramone to keep her hangin' on a telephone, mixed up with the rrriot grrrl attitude, makes it all clear enough, while it's when they throw on a bit of The Shangri-like musical lip-gloss that they sound most convincing, as heard in Don't You Go Go or Baby Doll.
Making the Rock'n'Doll Sound complete, there's also four (most appropriate) covers (THE ZERO's Don't Push Me Around, ELVIS' Spinout, Find It from the Beyond The Valley Of Dolls soundtrack) of which it's Aussie '60s' legend Peter Rechter's Cryin' that works the best.
[Released by Teen Sound 2006]