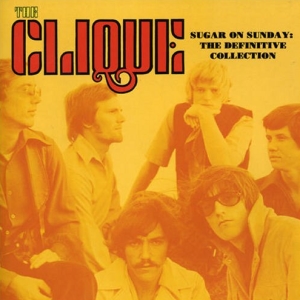 – The Definitive Collection –
Mostly dealing with the softer side of the late'60s soundtrack, after he'd just had his share of "Fun and Games" in Houston, famed LA producer Gary Zekley's second pick from the local scene was The Clique.
In spite of having already released a pair of singles, worthy enough of inclusion in any decent jukebox, the involvement of Zekley turned out to be the final "click" they needed to crack 1969's Top 30.
Justifying the CD's subtitle, Rev-Ola completes the Varese Sarabande re-issue by adding all four sides of the mentioned first two singles, with Splash 1 being a lighter take on the 'Elevators tune, Stay By Me is a funky little piece of popsike, while it's the second single that suggest the sounds to come, pairing up Love Ain't Easy with a kinda punkish bubblegum vibe of Gotta Get Away.
The first results of teaming up with the new producer and White Whale come in the shape of the Zekley-co-written Superman (later made more famous by R.E.M.), backed by the Left Banke-ish ballad Shadow Of Your Love, while it was the "sugary" sound of Tommy James' Sugar On Sunday that made them the most successful of the Texan heavy weights of the time.
Picking up on the formula, Gary Zekley came up with a coupla more bubblegum-ish Shondellike tunes for the album himself, such as Judy, Judy, Judy or Little Miss Lucy, which along with the pair from the third single, as well as some well chosen outside material (The Bee Gees' Holiday, Chip"Wild thing"Taylor & Al Gorgoni's I'll Hold Out My Hand, The Parade's Smokey Roberts' Soul Mates) make quite a debut for the band, and at the same time, a farewell album worthy of a producer like Zekley.
Taking the Tommy James connection even further, another pair of his songs were paired up (also produced by the man himself, and even using The Shondells as front man Randy Shaw's backing band) for a post-album single release, with Sparkle And Shine being another usually bubbly fair, while I'm Alive takes things towards a bit more blue-eyed-Staxful direction.
[Released by Rev-Ola 2006]