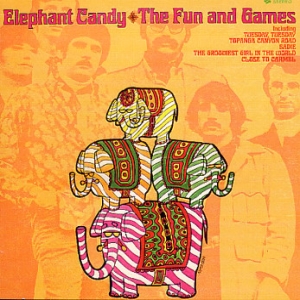 However they were trying to elude the bubblegum tag given to them, these Texan west-coast harmonizers were still responsible for at least two quintessential classics of the genre, the title tune and the powerhouse of an album opener The Grooviest Girl In The World, as heard on their sole, 1968 Uni album.
Besides "chewing" what was given to them by their producer/main songwriter and overall concept coordinator, Gary Zekley, The Fun and Games still managed to squeeze in some of their own Association-fascination too, occasionally delivering what can be described as exemplary sunshine harmony popsike (Close To Carmel, Something I Wrote, The Way She Smiles), as well as some first class Wilsonian "pocket symphonies" (Topanga Canyon Road and the post album single side We).
Sadie is an absolute hit single that never was, so well hidden under it's "Turtle" shell, Tuesday Tuesday is a loungey little piece of "trackarack", while the album closer It Must Have Been The Wind is a Love-ly piece of fuzzy popsike.
With their "grooviest" single only entering the lower reaches of the Billboard chart, they got kinda lost in the "games" of the entertainment business, but it seems that it was "fun" after all.
[Released by Rev-Ola 2005]