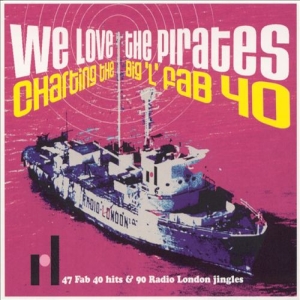 – Charting The Big "L" Fab 40 –
If you're at least an average sixties music fan, most of the songs compiled herein are most likely to already be found on some of your shelves, in one way or another. Still, this is probably the closest you'll ever get to an experience of sitting by a small transistor radio trying to catch up with the hip'n'happenin' sounds of the 1965-1967 period of the Swinging London.
You're about to hear not only more than 40 fabbest of hits that graced Radio London's Fab 40 chart, but just as much super groovy jingles, without which the "Wonderful Radio London" would've never been so wonderful as it was, contributing to the full-blown radio listening feel.
Initially, the idea of a boat cruising round the most swinging of waters at the time, was to bring sounds of the young America to London, and what they ended up with, was "fighting the pep for the masses", bringing to public (of estimated 10-12 million!) some of the stuff that you weren't likely to hear on any other radio station.
Such as, for instance, the MODernistic blue eyed soul of the pre-Smokin' SHOTS or THE KNACK, the Brumbeat of THE UGLYS, DAVID BOWIE's early freakbeat-ish efforts with THE LOWER THIRD, or Mike D'Abo's soulful pre-Mannerisms with A BAND OF ANGELS … and the list could go on and on, along with the "smooth sailing, with the highly successful sound".
Besides having their own entry or two, THE IVY LEAGUE even released a single under the guise of THE ROARING '60s called We Love The Pirates, so how could they not play it? … even though they were not always happy with it …. read all about it in the accompanying lengthy liners by David Wells.
So, there's only "One thing to say", "Well, if you're feeling down, come on and get happy", because "We're gonna move, we're gonna groove"!!!
[Released by Sanctuary 2005]