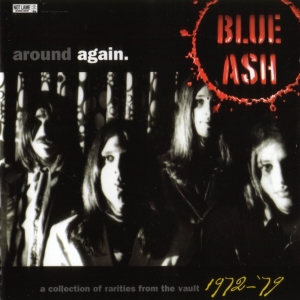 – A collection of rarities from the vault 1972-1979 –
I am sorry to admit that I've never had a chance to hear Blue Ash's two studio albums (No More, No Less, 1973 & Front Page News, 1979), even though I did want to, after reading power-pop fairytales about them.
Now, after hearing this collection of unreleased demos and rarities, the fairytale becomes a pretty real one, for me AND for the band too! According to the last count, there are "no more, no less" than 219 unreleased recordings in the vaults, of which we get to hear 44, most of them firm proofs that the "B-bands" list should be extended.
Sharing the destiny of their soulmates Raspberries or Big Star, the critical acclaim towards Blue Ash was not really proportional to the thickness of their wallets, so let's hope that this late hype will contribute to the matter at least some.
The sound itself, is divided between glammy (the vocals sometimes reminding of Noddy Holder) power-pop crunch (highlighted by the Slade-ish Abracadabra (Have You Seen Her?), Badfinger-ed Halloween Girl, T-Rex-tured Lover Boy, the Raspberry-flavoured Baby Baby, the imaginary Tommy-outtake The Boy Won't Listen, the Eastern-tinged Magic Words.
Or Mind Reader, kinda showing off the buzz that Supergrass were caught by at their beginning), mid-sixties jangle (It Won't Be Long Now, having much more in common with the early Beatles besides the similar title, and the same Mersey moisture can be felt in Plain To See, With You On My Mind, She's So Nice, I'm Your Man, Baby I Just Want You and Things Have Changed Now.
While the Byrdsy folk rock jangle is featured through I Remember A Time and also When You Rock, taken to the '70s Smokier-feel) and a bit of more traditional Americana (as shown in the countrified folk of I'm A Bad Actor and Oh No, Not Again! or another Raspberry-flavoured one, by way of Wally Bryson, called When I Come Home).
The one that is a bit surprising compared to the rest of the album, and among the highlights at the same time, is the string-leaden baroque popsike Silver Horses.
This should be more than enough a reason for us not make them come "around… again" for the third time, because they should really stick around.
[Released by Not Lame 2004]