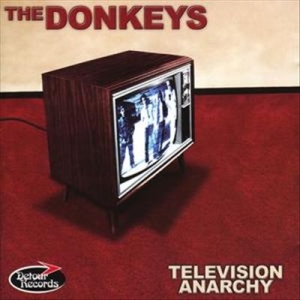 Another one of the (mostly) unknown treasures of the late'70s/early'80s British post-punk scene, unearthed by the Detour.
The label itself has always been associated exclusively with the mod/power pop sounds of the period, and this is the one that perfectly captures both of them. Spread over a double CD, Television Anarchy covers all of the bands five singles, as well as unreleased tracks that should've made the album that never was.
The first of the singles, even though consisting of a classy melodic crunch, didn't really set them aside from the contemporaries, and it was the second one that initiated the wild bareback "donkey ride" to the modpsychpowerpopin' soundtrack.
The creeping in of the mod-ish influence is clearly audible in No Way, and it continues with the next single Don't Go, a kind of a powered up Mersey "Jam" (in moments recalling The Fourmost's Lennon-written I'm In Love). Backed with Living Legends, this could easily be one of the ultimate power-pop singles that came from Britain.
The next one, Let's Float, is nothing less, even though it does come as a bit of a surprise, sounding like the best song that The Police had never recorded, while on the other side of it, there's another piece of Who-through-Jam mod workout in Strike Talks.
The last single, Listen To Your Radio, is almost like the Ramones without the punky attitude and it's backed with Watched By Everyone, reminding me of the Jam-backed Rubinoos.
Regarding the unreleased tracks, there's also quite a few goodies to be heard, most notably the early Costello sounding Some People, the '80s Britpop "madness" of Monkey Business, some more "mod cons" in Shipwreck and there's also a quirky little piece of pop perfection called Love In A Launderette.
In short, "donkey business" of which I can never get tired of!
[Released by Detour 2004]