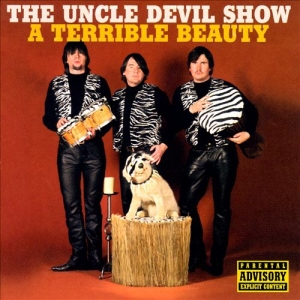 Well, if you're a sixties fan, a look at the album cover will be enough to get you interested. And then again, if you're a contemporary-sounding-sixties-influenced-pop fan, without much of a sense of humor, you'll have to put this one into the player without looking at the cover.
Either way, once you get through the actual content, you'll already be addicted for life!
Also, I'd advise you not to search for the band members' previous whereabouts before listening, because what you'll find might be VERY misleading. Anyway, this is one of the funniest and most entertaining sixties tributes around, without losing any of the moderndaze significance.
The opening Leonardo's Bicycle, and the one called Strange Umbrella, just like suggested by the titles, make the album's popsike pair, takin' you to the '67/'68 time span, while some of the equally quirky tales about strange little characters are "told" in the most melodic of FABtastic ways, as heard in Plus Ça Change and She Cuts Her Own Fringe.
More fab sounds by-way-of-Cotton Mather come with the Dylan-through-Lennon folk rock of Tambourine, Sidelong Glances Of A Pigeon Kicker, which is almost as if I Wanna Hold Your Hand was recorded during the Revolver sessions, and then there's also an imaginary Beatles-Sinatra collaboration called When Raymond Comes Around.
Gilbert O'Sullivan starts somewhere from the "back of a car" and then goes into the complete B-bands experience, as if arranged by the Fountains of Wayne, Dandelion offers some "crowded" sophistication, and as for the closing I Had A Drink About You Last Night, guys, give it to Robbie Williams and you'll have enough money for making records like this one for the rest of your life, make us all happy, and also save some for a (VERY) nice living.
One other way of having fun while listening to this record is to take it as a "guess-the-reference" type of game, which will keep you busy throughout the whole thing.
[Released by P3 Music 2004]