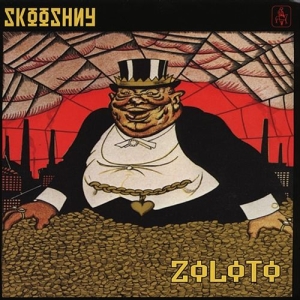 If someone turns his record store into the record label just to have an album(s) released by a certain band, than there really must be something about this band, right?
After they'd named themselves after something that they definitely are not ("skooshny" is "boring" in Russian), they did make things right, by naming this '76-'03 retrospective CD "Gold" (in Russian!).
Known for their kinda misanthropic attitude, Skooshny still managed to gather a significant fan base all over the world, thanks to the kitchen-sink reminiscing of all things sixties, that they keep delivering ever since the beginning of the '70s, when it was "too late for The Byrds and too early for R.E.M.".
With their earliest releases from '78/'79, predating the Paisley Pop sounds to come, they already suggested the quirky folk-sike label that they are being linked to (Ceiling To The Lies), sometimes adding a dash of baroque feel too (Dessert For Two).
The first new recordings in a decade, followed the similar path, slightly updated and mostly sharing the soundscape of the like-minded soulmates like The Green Pajamas or Bevis Frond, spread between the Byrdsy jangle (Sad Summer Spring, Holy Land), classic power pop (Even My Eyes, Flowed, I Never Change My Mind), some more familiar folky popsike moods (Science Changes Everyone, The Water Song) and even a bit of '60s garage-gone-psych (No Life Story).
As a special bonus, the CD is also graced with four brand new recordings, highlighted by yet another piece of harmony fueled jangle called You Paint My World, the Britsike vibe of Beautiful Bruise, as well as the cover of Davie Allan & The Arrows' Angel With A Devil's Heart (drummer David Winogrond now also being an official "Arrow").
In the good old Vibro-Phonic way, the packaging comes in the vintage gatefold sleeve; with the funny (and informative at the same time) liners provided by the Cream Puff "warrior" Jud Cost.
[Released Vibro-Phonic 2004]