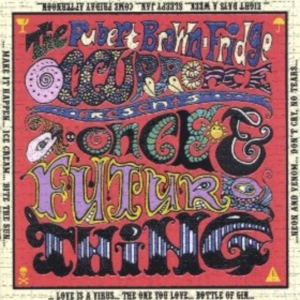 As the band name already suggests, this is a supposed conceptual musical tale about the moods and feelings that the character named Pubert Brown-Fridge was experiencing on the last day of his life (!?).
However strange it may sound, I suppose this should be more than enough to gain interest of fans of concepts such as S.F.Sorrow, Ogden's Nut Gone Flake or any of Ray Davies' ones, and the music itself, of course, doesn't get much farther from the idea.
The only exception (conceptually rather than musically), might be the opening cover of Eight Days A Week, in the vein of The Vagrants/'Fudge school of slowing things down and turning catchy pop songs into heavy psych mutants.
They continue to "Move" along the heavy psych dose of Syd-like melodies (Sleepy Jan), which they do quite often throughout the album (The Icecream Sons, Bite The Sun), occasionally interrupted with some out-of-place female-vocals, which is also the only objection to the otherwise good timey late-Beatles-by-way-of-Badfinger feel of Come Friday Afternoon.
More good times are about to be had with the following quirky Sopwith Camel ride (if they were British) of Make It Happen, or the equally quirky Britsike of The 1 U Love, with a Martin Newell-ish '80s touch to it.
Of course, it was just a matter of moment when will the Kinky-pop creep in, and it finally does with the vaudevillian vibe of Love Is A Virus and the "well respected" sing-along Bottle Of Gin.
By the way, the album comes from the land of Oz, featuring members of famous bands whose names I won't mention, so that you don't get mislead.
[Released by Laughing Outlaw 2004]