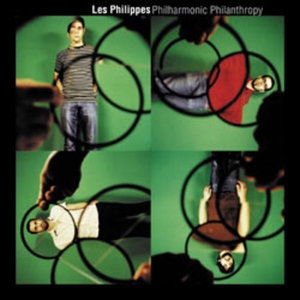 Even if didn't like it, I'd probably lie to my own self that this is a great album, since having a new project featuring the legendary producer/arranger Mark Wirtz of Tomorrow from yesterday, is something that cannot be looked over that easy.
Thankfully, there's no need for that, because the Philippes' family project CAN be considered a contemporary continuation of Mark's vintage concepts.
Clever arrangements, catchy melodies and bright, sunshiny vocal deliveries are all captured through a variety of musical styles like the Dylan-at-his-poppermost vibe of Take Shelter, the big-ballad west-coast-ish harmonizing of Beware, with it's chorus distantly reminding me of The Air That I Breath (the song that is), and some more of the same in Colour Stew, slightly sped up, towards the "cosmic rough ride".
Broken Hearted Prison Keeper is a late '60s Lennonism, Manure & The Empty Characters, takes it back a year or two, through a "Revolving" psych, while the closest they come to the quirky popsike of Tomorrow (by way of moderndaze Britpop), still maintaining the west-coast vocal deliveries, is Sticking Plaster Salesgirl, Delivery #104 and the good-timey vaudeville ride with The Small Faces on the Sopwith Camel (appropriately) called (You're My) Cabaret Song.
Add to all this some waltzing popsike of Waiting Waltz and a dash of late '60s British folk-rock of Swimming In My Eyes and you've got most of the genres of an era covered in a bit more than half-an-hour, so I guess Mr.Wirtz had been given a perfect opportunity to remember where his origins lie.
[Released by BCore 2003]