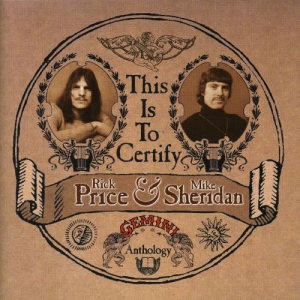 – Gemini Anthology –
As it is nicely put the in the liners by David Wells, in an attempt to make a more detailed Brumbeat scene family tree, Pete Frame would've probably hang himself right from it. One of this tree's integral, and at the same time least exposed branches, must be the one with Price and Sheridan sitting on it.
While also participating in both the roots (Mike Sheridan's Lot) and the dawning off the scene's biggest MOVEment (as musicians as well as cover-artists / Mike draw the "Shazam" cartoon characters), the pair created some of the most beautiful music of the era, here spread over two CDs, chockfull of timeless chamber pop.
Since they never really got the credit they deserved, the time has come for us to pay some attention … and respect!
After Sheridan's single featuring a folky take on The Idle Race's Follow Me Follow, came Price's follow up Davey Has No Dad, which announced the "honeybus" baroque pop ride, which was the main one they were taking on the This Is To Certify album, best represented through Will You Leave Me Behind, Beautiful Sally, Picture Box or Tracy Smith, which also recalls The Hollies' late '60s balladry.
Other popsike delights include the slightly jazzy flavoured, Gouldman-nered Bitter Sweet, the equally upbeat, brassy pop of On The Moon, the moody Tomorrow's Child, with traces of both Nick Drake and Triangle-era Beau Brummels.
Or Face In My Window, proving that the Wood-Lynne influence was hard to avoid, while Lightning Never Strikes and Somtimes I Wonder are the two sole rawk-outs, with an acid drop or two, more appropriate to the time of the album release.
With and exception of the first couple of tunes, following the previous path (the lighter-Move sounding Butterfly or the chamber pop styling of April Is Here or Misty Morning) and another unexpected jewel towards the end, called Turn Around, the content of the second CD is a bit beyond the first one, covering Rick's solo album Talking To The Flowers and an unreleased one from '71.
Still, This Is To Certify, makes this more than a worth purchase on its own, even if the other CD would've been a blank one.
[Released by President 2004]