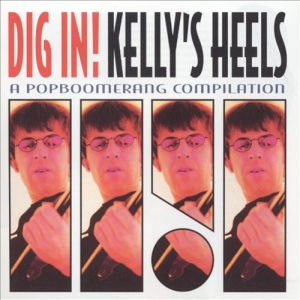 Bob Kelly's basic mission is to squeeze as much as possible into the 2,5 minute audio-space ….. and he does it wonderfully, sticking his heels deep into the traces of mid-sixteez pop legacy.
As for some moderndaze references, his understanding of the song structure is not unlike the one of Mark Bacino, another pop troubadour, an ocean away, resulting with non-stop-hooks that makes you hit the repeat button again and again.
One thing is for sure, there's no way Bob will leave a sound channel unused, cuz there's always something left in his bag of studio-trickery and yet, he still manages to maintain an almost live feel to it.
After three albums chockfull of gorgeous melodies and super-catchy choruses, here's a "pop-boomerang" thrown back at all of you who missed your chance to unearth one of Britain's best kept pop secrets.
Bob easily proves that it's a fine line between the contemporary power-pop and it's earliest "hollie" origins (Someone Somewhere, Don't Get Me Started), often filing them under Tilbrook/Difford songbook reminiscing (She Knows, Waiting For A Sign, You Don't Know Her, She Doesn't Know It's Wrong, I Want Doesn't Get).
With his "heels" still gazing through the Merseybeat-ish vibe (How Much Worse, Making Me Go On) or making his own harmonic-kaleidoscopes (Can You Count The Stars, Kitten Heels), comprehending everything you ever loved about pop music.
Bob Kelly keeps searching for the perfect melody … it's just that no one seems to have told him that he's already been there … more than once..
Also, I think it's about time to point out one more aspect of Bob Kelly's records, which has always kinda been hidden behind the songs themselves, and it's about him, being a pop-guitarGod. Though always in the service of the songs, his minimalistic lines are so note-perfect that you tend to think that any extra note would've been too much.
If you're already familiar with the previous albums, you might wish for some of the omitted tracks to be included (r.e.m.Brandt, Two Fingers, Everything I've Done, Forget You, Leavin'), but then again, if you're about to try on these "heels" for the first time, this will be a perfect place to start!
[Released by Pop Boomerang 2004]