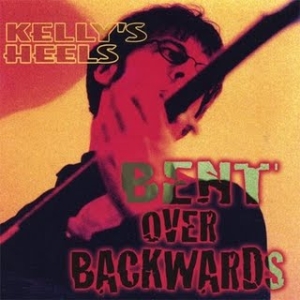 If you feel like unavailing one of Britain's best kept pop secrets, go out and get this NOW! Continuing on the "ashes" of his previous releases, Bob Kelly keeps searching for the perfect melody… it's just that no one seems to have told him that he's already been there… more than once.
As it is the case with most of Kelly's Heels' recorded output, when you hear r.e.m Brandt or Two Fingers, you'll realise that Bob's "heels" are still stuck in the mid sixteez ooze, and if you ask me, I hope it's something he'll never lose (see what becomes of you if you listen to too much pop music?!).
Despite of the vintage influences, the sound's been also put through the '70s-'90s filters, thus making the perfect link between his old heroes and likeminded contemporary artists. One of those moderndaze bands has got to be Squeeze. If you ever thought that they lack some tiny little thing to be THE pop band, then this is the one to fill the gaps.
Songs like She Doesn't Know It's Wrong or I Want Doesn't Get make you suspect that some of the best songs written by Difford & Tilbrook have been hidden from the public for some unknown reason.
Having some Macca-ronies on an album like this comes as no surprise. Tangled & Plain is classic Paul-balladery, adding a guitar sound that may be the very thing that inspired Ian Shaw to name his label Warmfuzz, and the furthest Bob goes for inspiration is the wild Cochran-ized rhythm guitar of Making Me Go On, all covered up with the Holly-smoke.
Also, I think it's about time to point out one more aspect of Bob Kelly's records, which has always been kinda hidden behind the songs themselves, and it's him, being a pop-guitar God. Though always in the service of the songs, his minimalistic lines are so note-perfect that you tend to think that any extra note would've been surplus.
Simply put, what you get here is hook-after-hook, and it's not likely that you'll be able to get rid of them for a long time!
[Released by Warmfuzz 2002]