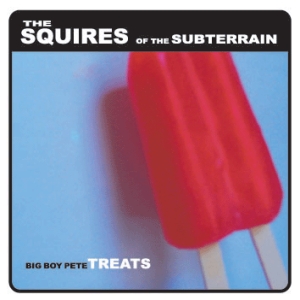 Just like anything involving Big Boy Pete Miller, this seems to be one of the funniest projects around these days. Teaming up with Christopher Earl, his moderndaze equivalent in home-studio wizzardry, couldn't end up with nothing less than a popsike kaleidoscope that will take you back to the days of "lava lamps, hindu times and paisley skies" and all the sounds that surrounded them.
Chris takes a bunch of Pete's "too far out" unreleased '60s tunes and injects a whole new life into them, making us even more eager to hear the originals … if they were ever recorded.
The party starts with an early Who-ish melody and the 12-string jangle of Party On Down, and if you ever wondered how would've The Monkees sounded like, playing some of the 'Zeppelin's rawk-outs, then There You Go.
Down In The Street mixes some Brian/Todd sophistication with a bit of surfy guitars, while Make Love To Me is something like a Raspberry-flavored power-pop arrangement of a '65 Beach Boys tune, and Genius Man stays in the mid sixteez beat area, adding a bit of a garagey rawness to it too.
It Didn't Do Much Good finds Pete and Chris Searching for the perfect Merseybeat song, Only Fools Are Sure is an imaginary early'60s, girl-group arrangement of another kind of a goofy Who-melody, that will make you just as "happy as Jack" was back in '67, and in the late '60s Brit pop/psych department you'll find Henry Nut, taking you back into "tomorrow" and It Don't Make No Difference sounds like an "aftermath" of "something else".
So, if you dig all the Big Boy Pete "psychedelic adventures" that resurfaced in the last 5-6 years or so, you should definitely update your collection with the latest, joint adventure.
[Released by Rocket Racket 2002]