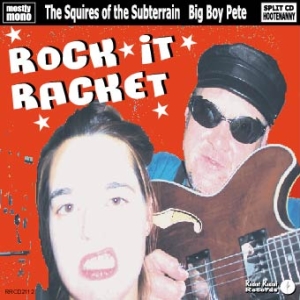 Not really up there with their 2003 collaborative effort Strawberries On Sunday (reviewed elsewhere on these pages), I suppose the initial idea for this one came after unearthing another bunch of Big Boy Pete recordings, this time from 1976, not being of the usual "too far out" quality, but sticking exclusively to the rockabilly and country "racket".
In order to make a conceptual "split CD hootenanny", Chris Squire (the younger, American one, not the Synner!) locked himself up into his "sun" basement, coming up with just as many (6 each) recordings, for more than an appropriate intersection of BBP's covers of Charlie Rich, Larry Williams, Bobby Fuller, Buddy Holly and the like.
And the most fascinating thing happens to be that some of Chris' originals sound just as authentic as the music that inspired them, jumping back and forth from Elvis to Johnny Cash, and occasionally sounding even like the both of them at the same time ….. Johnny Presh, Elvis Cashely or a Million Dollar Duet anyone?
[Released by Rocket Racket 2007]