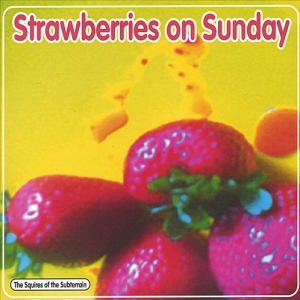 After last year's teaming up for a set of unreleased, "too far out" Pete Miller '60s tunes, here's another joint effort, made of Chris Earle's brand new songs and overlooked by Big Boy Pete's studio wizzardry.
Like expected, the overall feel makes you think that this could've easily pass for another one in the line of Pete's "from the vaults" series, though it could as well have been an unreleased Britsike "buried treasure".
Most of the time it's about late-sixteez reminiscing like the Lennonized Falling Star and Kittycologne, the title song's Idle Race-ing quirkiness, Air Guitar, which is kinda like Macca and Bowie meeting for a '68/'69 session and to make a perfect balance, there's also a moment when they also get Lost And Found in Harrison-like way, while Ferret Girl, though staying within the concept, also adds some extra freaky-power chords.
On a bit more contemporary side of things, you'll find the pure pop of Marisol, sounding not unlike Chris' DIY soul mate Mark Johnson, then you'll be especially "tempted" by There You Are which like Lennon (again) covering a Difford/Tilbrook tune and they also throw in a some classic power-pop through 4-leaf Cover Girl and Sweet.
As for the latter, though it doesn't necessarily have to mean so, as soon as you hear the first couple of lines, suddenly you'll become aware of the title's sticky, bubblegummy "sweetness". It seems that these two guys have a real solid bond goin' on between them, which only comes natural, considering the ideas they've been sharing with us during the last almost-fourty years.
Well, up until now, it was Big Boy Pete carrying torch but I'm sure that by now, he's handed it over to his trusting buddy, Chris "the Squire".
[Released by Rocket Racket 2003]