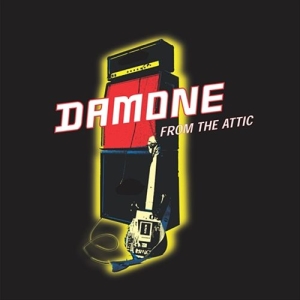 If you remember two issues ago I heralded Avril Lavinge's Sk8ter Boi as something other than the usual mass-marketed dross. It's since gone on to be a pretty substantial hit.
Coincidentally, it seems, Arista's sister label RCA was out acquiring their own Teen Queen w/ Guitar in the guise of Damone, from out of Waltham, Mass. (Next up in the game, via Capitol, is fourteen year old Sky Sweetnam, another one bred north of the border, and Hollywood's Alexandra Slate who has two pretty decent Chrissie Hyndesque rockers on her debut album amongst the usual Modern Rock junk.)
Out front is seventeen year old Noelle LeBlanc in full skate kid gear. The tunes all come from the pen of lead guitarist Dave Pino, who is more like a dark haired Spicolli than any Max Martin type character. But this album is stuffed with great Rock and Roll, as opposed to Ms. Lavigne's teasing one-off.
Chunky, driving, melodic rock with Ms. LeBlanc's voice, in singular or multi-tracked, coming on like Kim Shattuck's baby sister. And the shots come fast and furious with all eleven tunes jammed into 30 minutes. Which means someone out there is pretty smart because to a degree there is sameness to these songs that if they had gone on much longer would have turned towards tedium, but as it is they are the coolest blasts.
The big change-up is At The Mall where bassist Vasquez (with a bit of Cobain's slurring in his voice) steps up to the mic for a full bore, rampaging duet. It comes complete with a classic, tearaway,'70s guitar solo and a serrated, terse call and response vocal in the bridge: all stuffed into a 2' 11" package.
There's a pretty, forlorn ballad, the closing Leave Me Alone, plus some mid-tempo variations of the rockers. The tale is all the songs are about the girl who broke Pino's heart and walked away with it — sometimes the gender is appropriately changed lyrically and sometime it's not. But this record is Summer ready: top down, pedal-to-metal cruising music.
And now for the rest of the story (or at least the rumor and innuendo), with a big assist from Stewart Mason: There's a band called Waltham that's fronted by Frank Pino, Dave's brother. Dave was the guitarist in that band along with drummer to be Dustin Hengst.
He had a bunch of songs that he wrote as a youngster and thought it would be cool if he could build a band to play them, without himself in it. The band was called Noelle. (There is still a web site www.noelletheband.com that links you to Damone's site.)
A guy named Adam Rourke was the drummer and if you look closely at the credits you'll see that seven of the eleven songs were "produced, arranged and performed" by him and Noelle LeBlanc. The potential Noelle album even had a title, This Summer.
But somewhere along the way Rourke and the other musicians dropped out. In the meantime Pino and Hengst had left Waltham and Pino decided to take over as the lead guitarist in his creation. He recruited the one-named bassist Vazquez and the threesome somehow found themselves with a deal with RCA.
Enter another Boston area drummer/producer Ducky Carlisle (who once backed Barrence Whitfield). He overdubbed the drums on the seven old tracks and helped cut four new tracks. With a deal and a label desirous of having a band out promoting themselves, in comes Hengst.
Meanwhile the girl who was supposedly the inspiration for all the songs has come back into Pino's life and he's dropped out of the band to wallow in romantic bliss. Or, he supposedly feels that he fulfilled all the goals he set out with, so it's time to move onto the next thing.
Or, he just flaked out when confronted with what is involved in being a touring musician. How a multinational got roped into committing the extensive resources needed to launch a band for just a one-off project from a bunch of unknowns is the great mystery. But on many levels, I'm damn glad they did.
Well, the band has been touring pretty much nonstop through the Spring and Summer, and Noelle's look has morphed into a young Suzi Quatro minus the leathers. They picked up a new lead guitarist in L.A. and my prediction that this will have turned out being a one-off might have been premature. The current band is trying to create some new tunes on their own. And Pino is making noises about submitting new songs from wherever he's holed up.
[Released by RCA 2003]