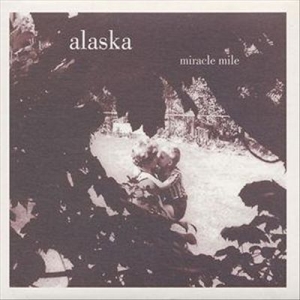 Miracle Mile is basically the nom de plume of one Trevor Jones, an English singer-songwriter-guitar player whose vocalizing is somewhere between latter days Paul Weller, Rodney Frame and the gingerly aspect of Elvis Costello. (Aided and abetted by co-producer, multi-instrumentalist Marcus Cliffe.)
This, his fourth album, came out back in the middle of Winter and like the above album is draped with introspection. The recordings are more polished, cleaner sounding, and pack the disc close to its limit — 17 songs in almost 77 minutes.
Generating some of that tenor is the mixing of pedal steel with various synthesized parts, along with wistfulness of the lyrics ("And I have seen a sunset to make the meanest mother cry/And I have seen the clouds in my baby's eye…" — Weatherwise; "Say easy come, easy go/There goes Mexico/Wasn't it good?/Wasn't it real?…" — Malkovich) and Jones' phrasing.
The melodies smoothly flow by (see Wilful, Weatherwise, Cinnamon Chair, Mermaid, et al.) touched by eddies of guitars and keyboards.
There are a couple of tunes that in reaching beyond are more distracting than enlightening. Last Drop, having an all synthesized backing, misses the leavening effect of the admixture of regular instruments; and thus it takes on the guise of some quasi-New Romantic track.
The opposite would be something like the touching, waltz time Deaf Face which is layered with the pedal steel, an accordion, some wind instruments and a piano.
And whether it's just the differential of vocal tone between Jones' speaking and singing voice, or the mechanistic backing bit, the spoken word number Local Knowledge seems misplaced. Malkovich has those overtly synthesized beats but "strings," dobro, electric piano and the chorale backing in the bridge leaven it all out.
[Released by MeMe 2003]
Miracle Mile website